Dogs Welcome in North Devon
We're truly Dog Friendly
Kipscombe holidays is a great place to holiday if you love dogs and you love North Devon. They will have the time of their lives here and happy dogs mean happy owners.
We love dogs and have had lots of dogs of our own over many years so we understand some of your requirements as dog owners. We are pleased to be able to offer Babbling Brook cottage as one of the finest dog friendly holiday destinations in North Devon. We provide everything to make your stay as comfortable as possible. You will find plenty of great local walks and acres of our own private land with stream and great Devon-shire rolling countryside. 
If your dog goes home exhausted, then we feel our job is done!
Dog-Tastic Holidays
We have tried to make our cottage and our land as dog friendly as possible. We have created area's where your dog can explore and sniff. They can have a paddle in the stream whilst walking through our Babbling brook walk. Walk back up past the cottage and round to our large 3 acre fenced paddock where dogs can run around off lead or have a play on our dog obstacles. In this field you will also find some basic fun agility equipment and our own fun gundog scurry that you are welcome to use, there are logs and agility jumps for your dog to jump, weave poles to weave through, a 2m tunnel for adventurous dogs. This field is a great place to hide a dummy for your dogs to sniff out and retrieve. (this field is fenced but we recommend you assess the fencing yourself before letting your dog off lead). Views from this field are stunning and on a sunny day you can see the peaks of Exmoor lit up by the sun. Just across the valley you may see the remains of the old medieval village.
The stream
Dogs can have a paddle in the stream which is situated in the Kipscombe valley. On a hot day this is the perfect place for dogs to cool off. Well behaved can even go off lead in this area. For shorter dogs they may even be able to get their legs off the ground for a proper swim. It's not deep, so no worries about letting your dog paddle.
It is nice and shady under the historic trees, the stream is fed from a spring and runs all year, although a little slower during the summer month, it's amazingly clear and cool in the summer. This is actually a very peaceful and tranquil spot, just the sound of a passing vehicle every now and again.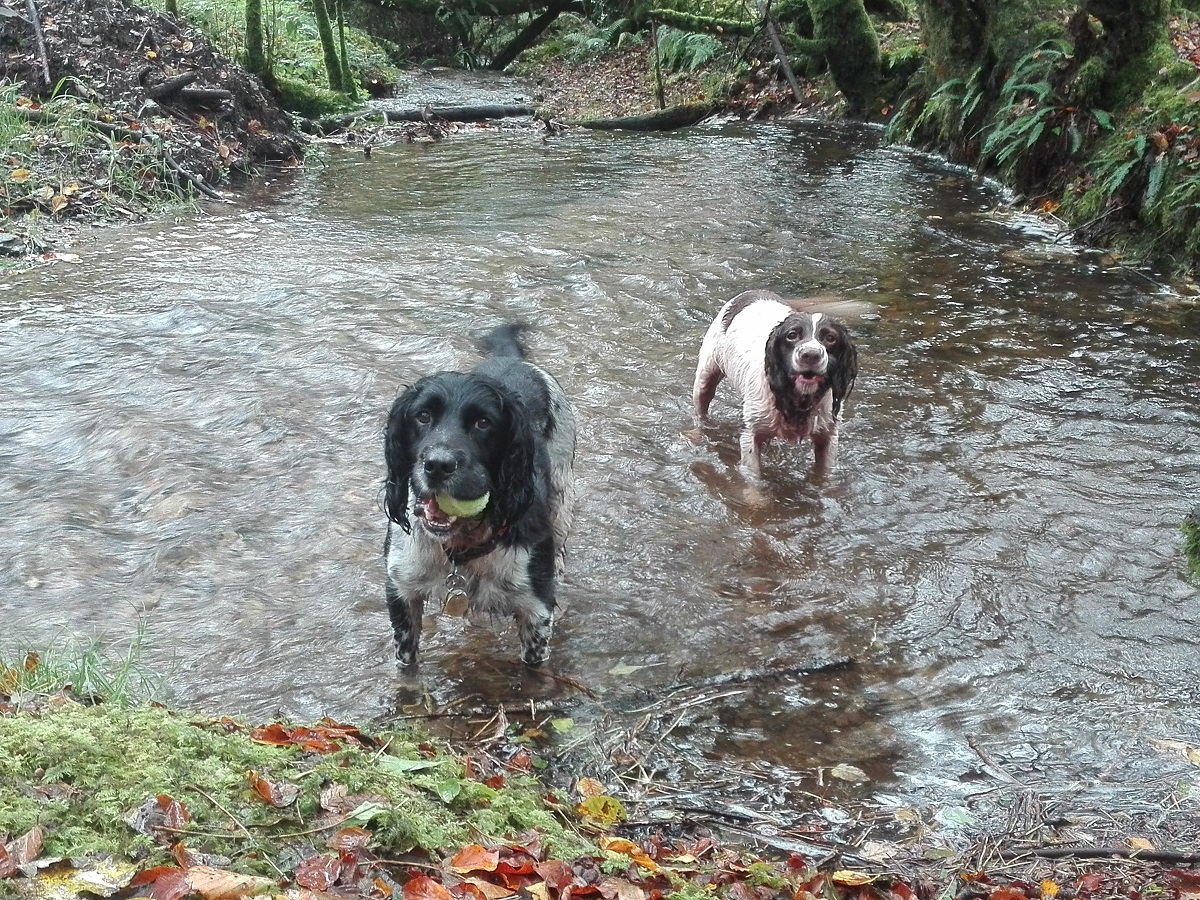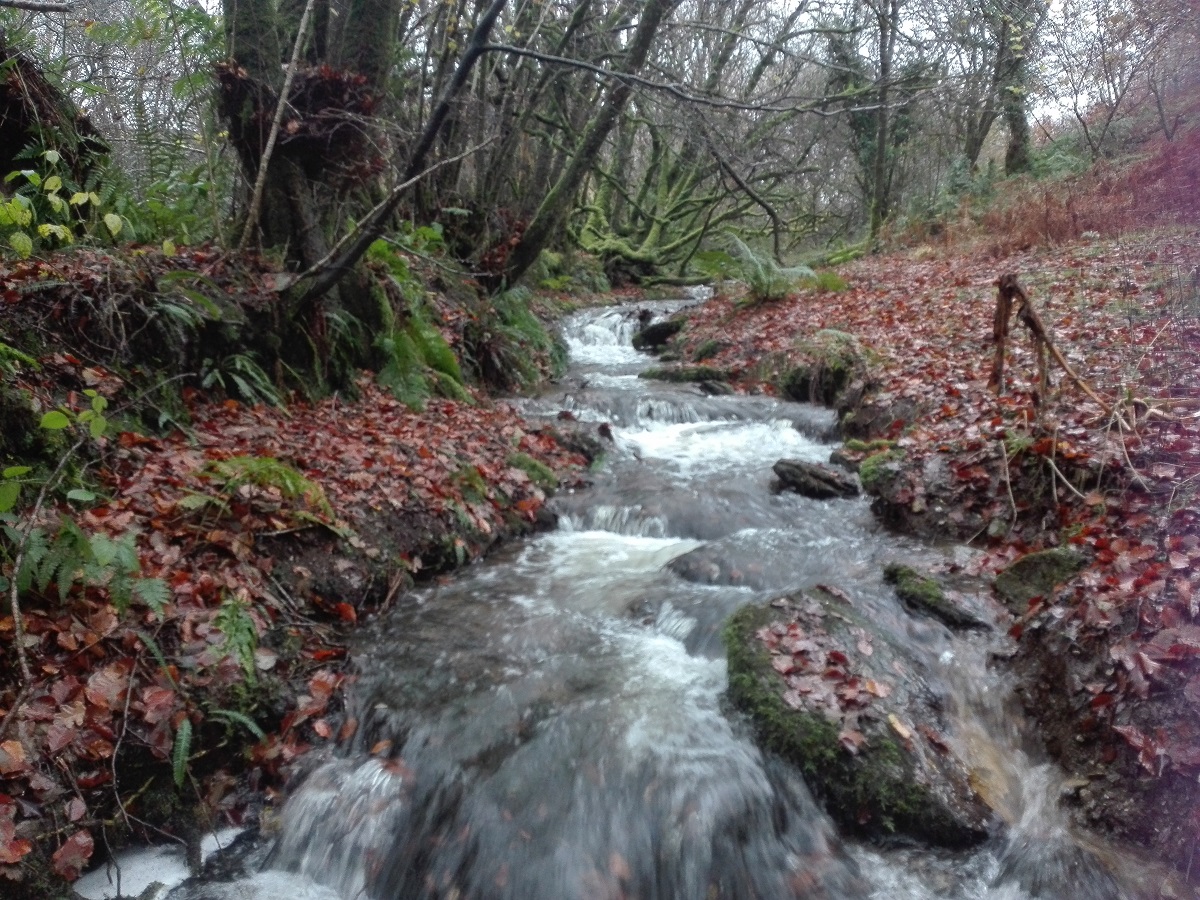 Straw bale scurry
We have a straw bale scurry in both the main 3 acre exercise field and in the 2 acre secure dog field. The scurry consists of straw or hay bales one high with fencing on both sides. Hold your dog while your partner places the dummy at the far end, then release your dog asking them to fetch and retrieve. A normal scurry would be two bales high but for safety of all dogs it's just one.
Hopping over the bales they will dash to retrieve the dummy or toy and hopefully return to you for their next go. As the bales are only one high it makes it easier to jump on and off or over. You have free use of our straw bale scurry.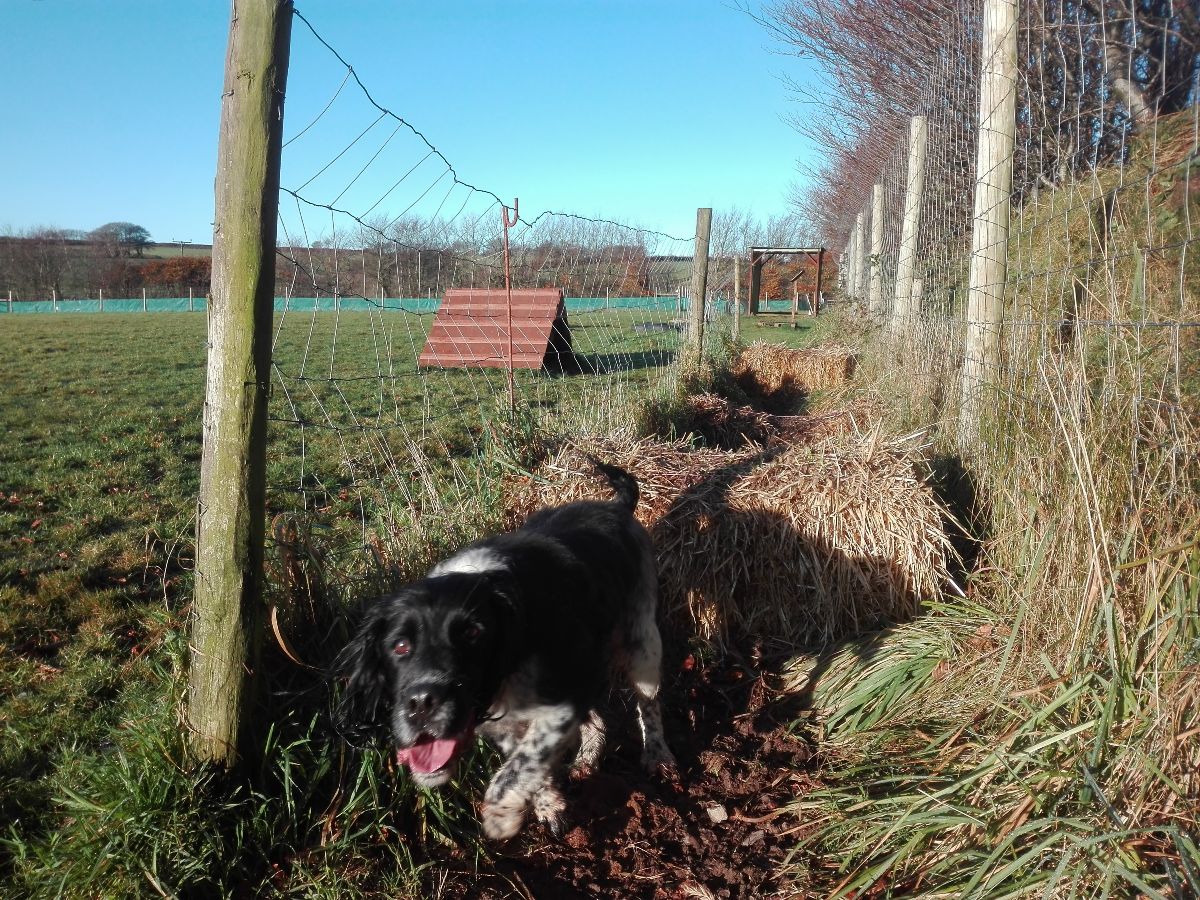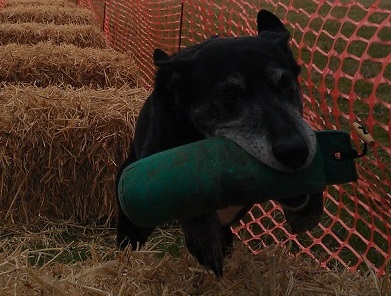 Fenced off lead dog exercise paddock 
Free to use area - This is approx 3 acres of off lead doggy fun. The exercise paddock is fenced with 3 feet stock proof fencing (4 feet in places). Within this field you will find our fun dog agility, weave poles, some jumps, a tunnel, some log jumps and our famous straw bale scurry. There's a picnic table so you can sit and watch your dog(s) having fun running around playing. Sit and enjoy the Exmoor views and listen to the sound of the local wildlife. You may even see the odd owl or bird of prey. 
Our guests dogs love this field, it's perfect for them to sniff and explore before you head off visiting the local Devon area.
During summer months we may let the grass grow and cut paths to enable walking. The whole field then gets cut around June /July and then again in September / October.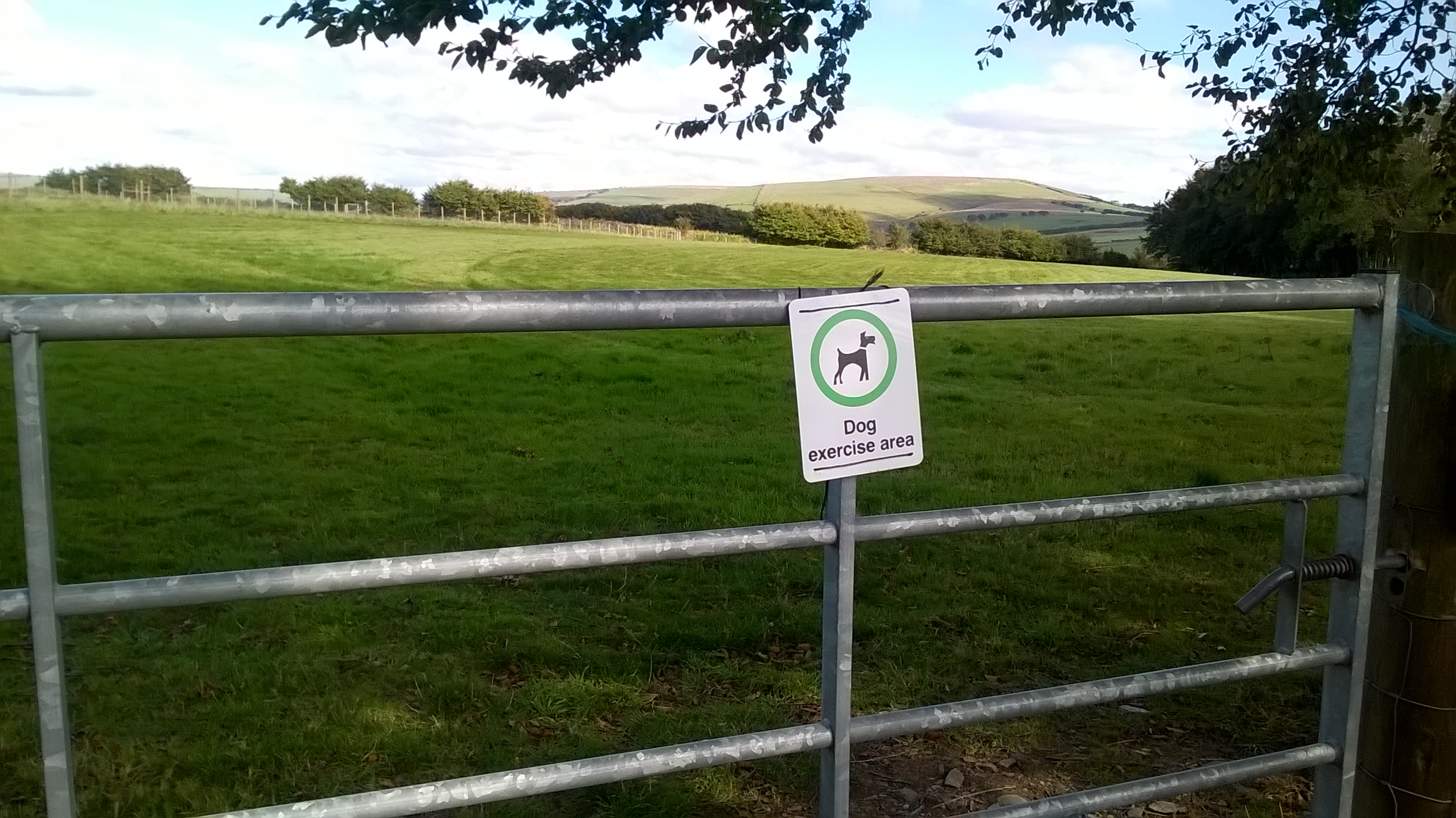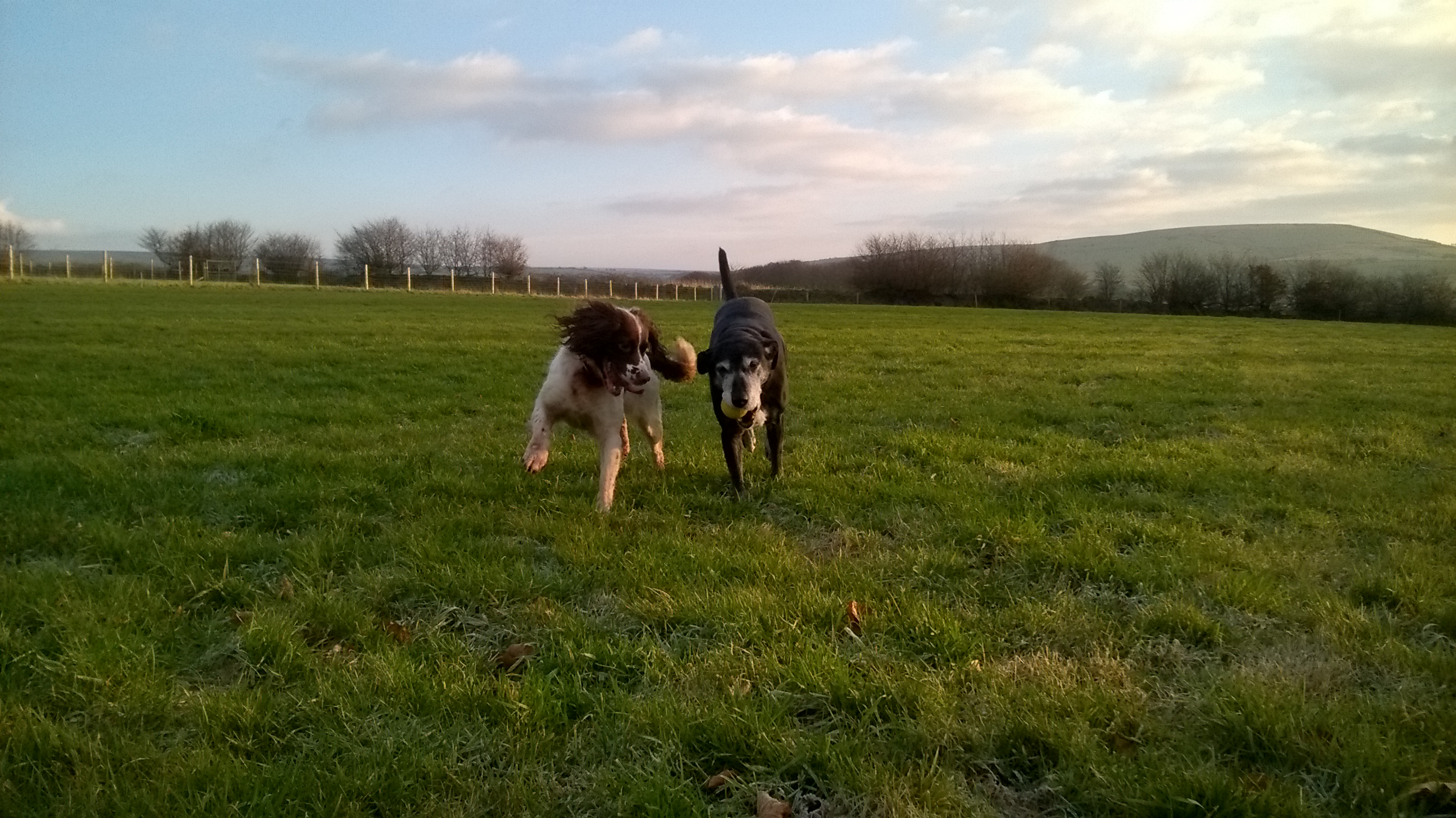 from 1st April to beginning of October this whole field becomes our communal area where dogs can play together. If you have a nervous dog, or a dog that can jump standard stock proof fences, you will be pleased to hear that we have another field you could use, It's exclusive use so just you and your dog and it's completely secure with 6ft deer fence.
Early October to 31st March our 3 acre field can be more exclusive use if you wish. if your are our cottage guests and you have a nervous dog you can request sole use of the field at certain times. It's only us and you so no real problem. Cottage guests can exercise their dogs with no other dogs in the field if they wish. If your dog does not jump fences then this field will be ideal for exercise and play. 
Dog Park - Exclusive use secure off lead paddock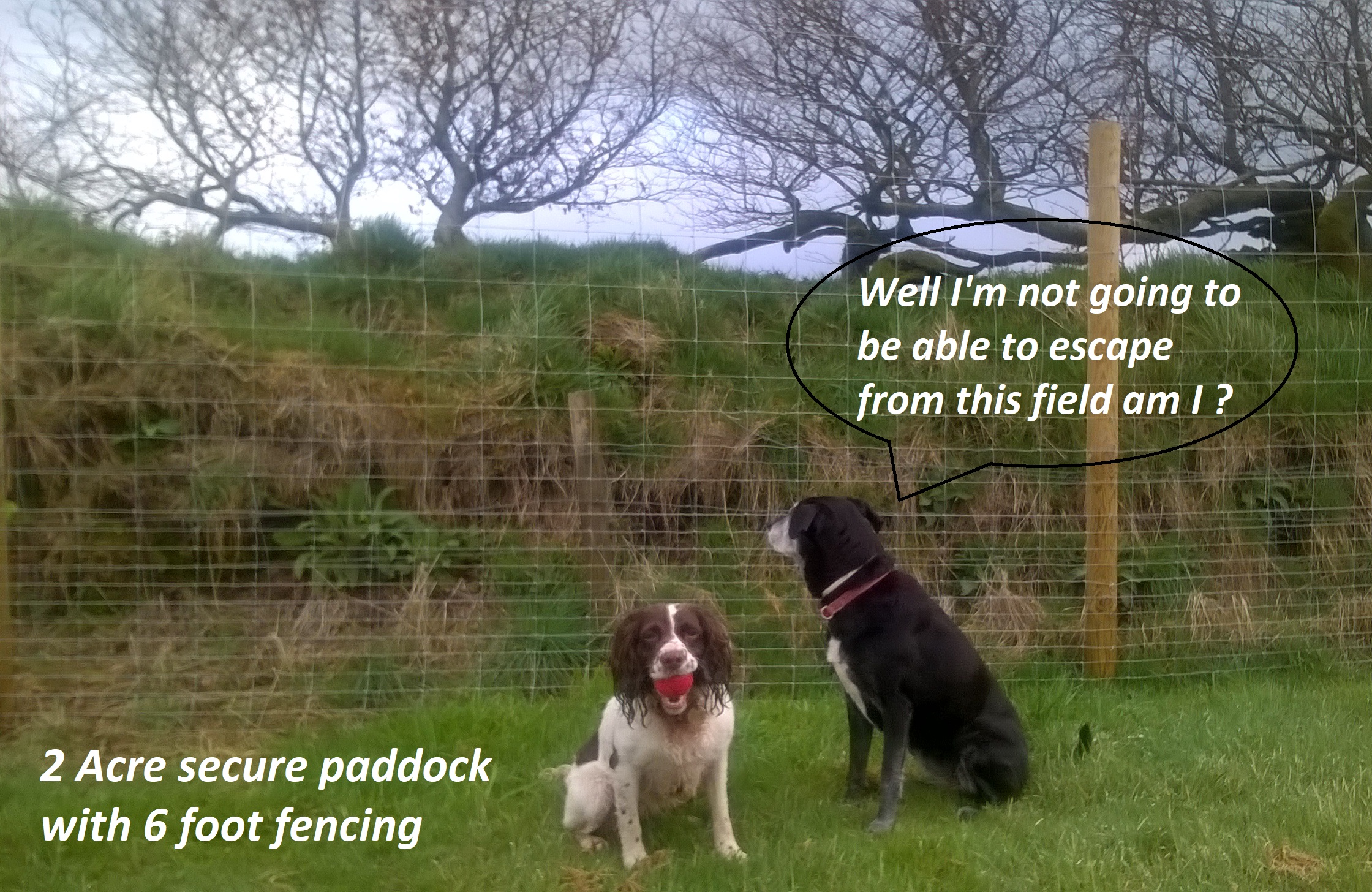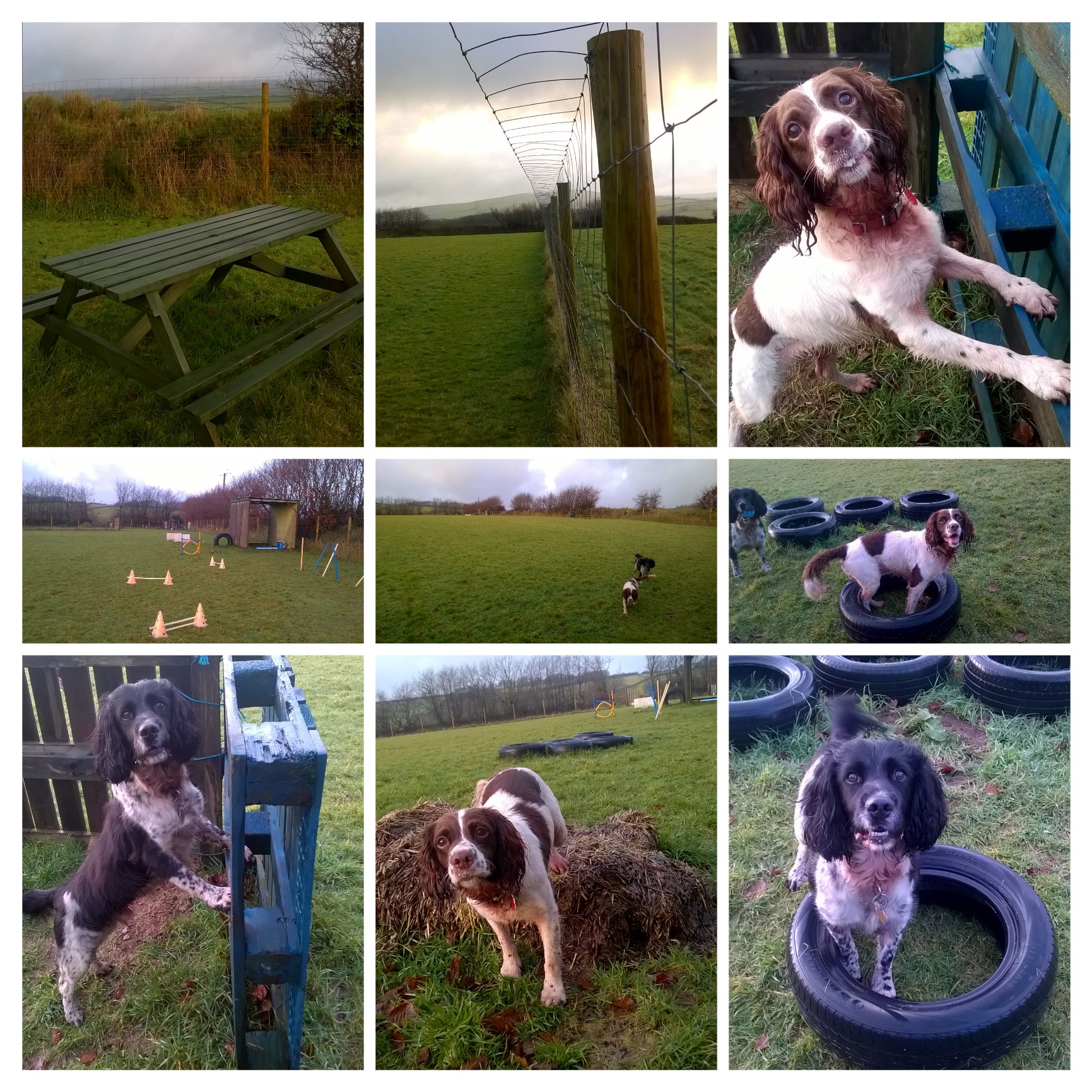 Created in 2018 our secure field is loved by all dog owners. It's a secure 2 acre off lead dog paddock that can be hired during your stay. This can be used for exclusive use, which means only you will be in the field allowing your dog(s) to be exercised without worry of other dogs or animals in close neighbouring fields. If you have a dog that cannot normally be let off the lead due to the risk of them running off and worrying sheep and other animals, then this is the perfect paddock for you. It is approx. 2 acres in size and has 6 foot deer fence all round. 
For the safety of dogs this field is bookable by appointment (a charge may apply). Grass is kept short here. read more>>
Apple orchard picnic field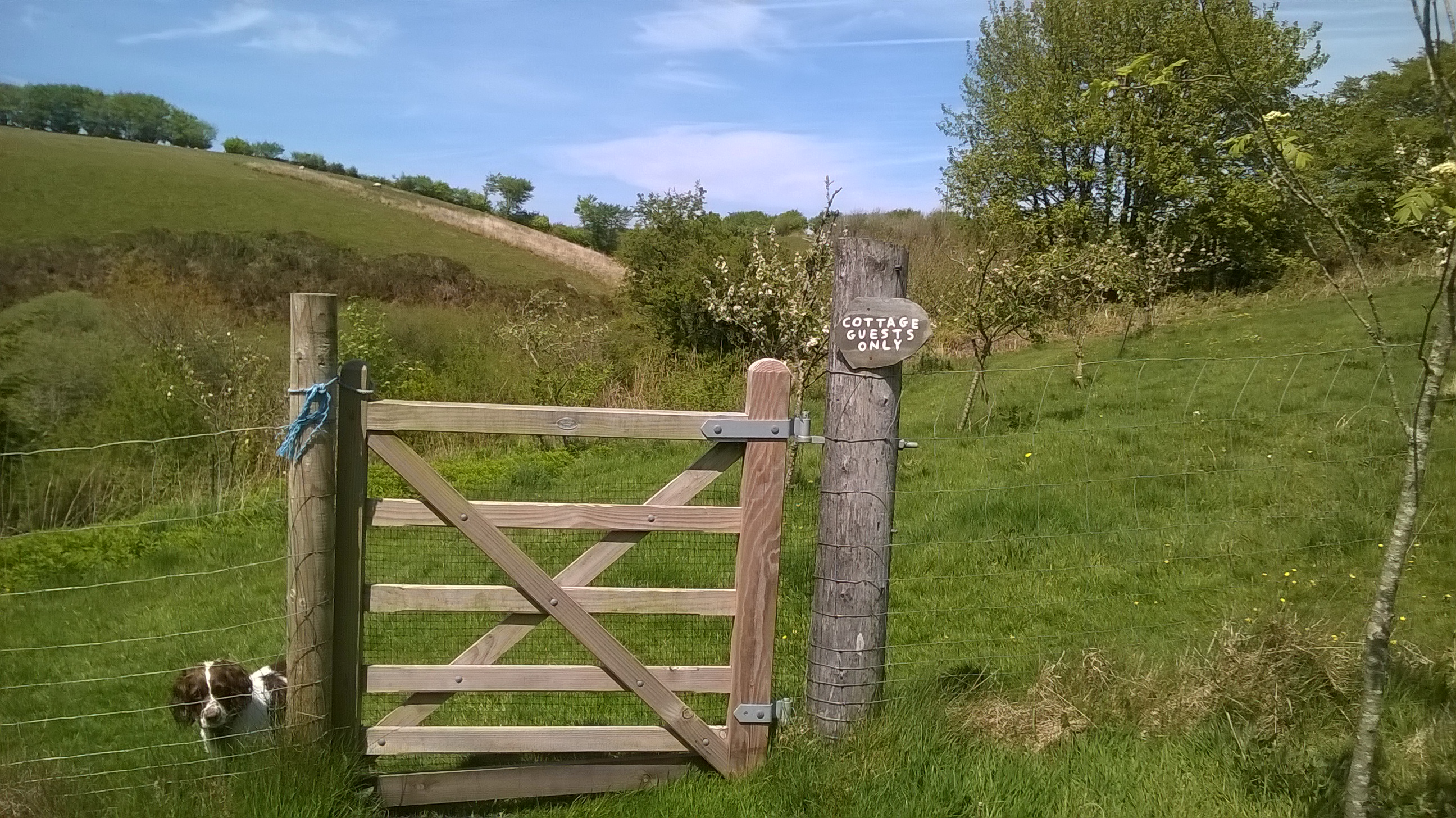 The paddock is located within 10 metres of Babbling brook cottage and is the ideal place for our cottage guests to exercise their dogs first thing in the morning, daytime or evening. It is .5 acre in size and fenced with 4 foot stock proof fence. This paddock is used by us and Babbling brook guests only.
If you prefer not to use our other fields, then you'll be very grateful for this off lead dog exercise area.
Within this field you will find a picnic bench should you decide to have a picnic in there. Great views and sound of the brook from here.
Cottage guest feedback. Off lead cottage field is a stroke of genius, love sitting here watching my dogs play.
Dog Agility Equipment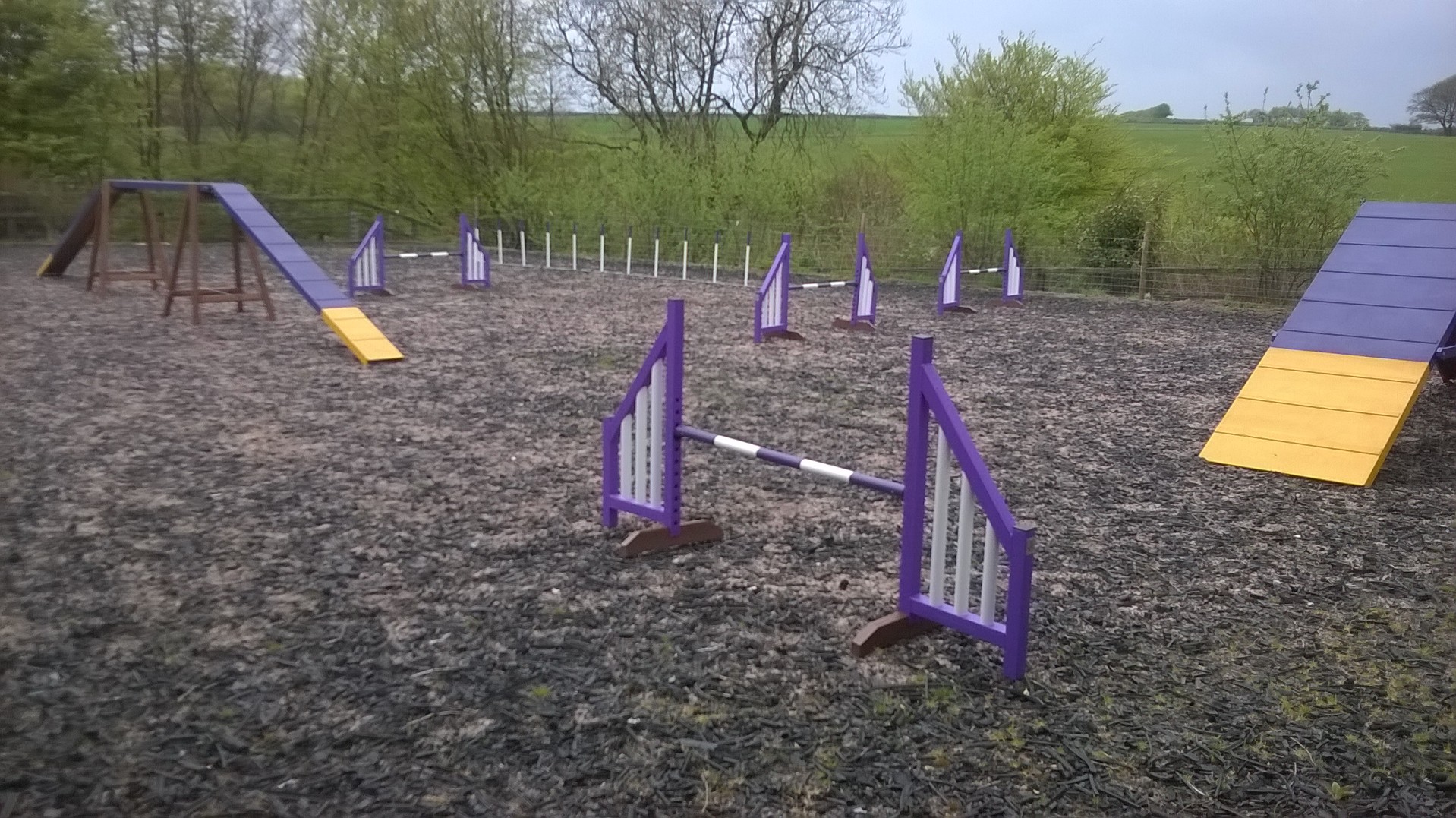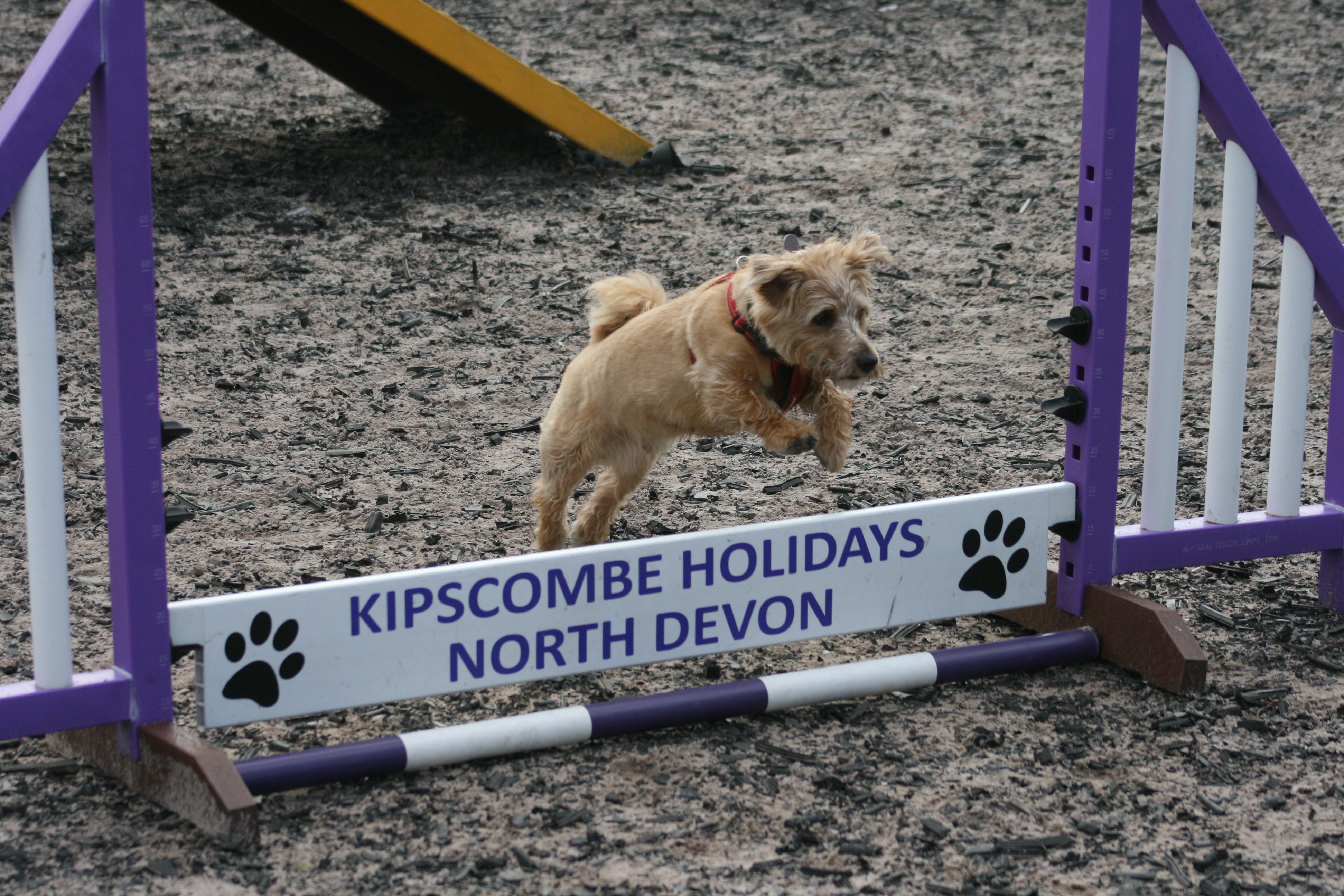 Our dog agility area - Located in our sand school which is fenced with stock proof wire. Our own dogs love this area for play and exercise. We have learnt that dogs love a challenge and this equipment certainly does challenge them. We ourselves don't do agility professional, it's just for fun, but we know some you do and always like to develop your skills better. The ground is made up from sand and rubber which makes it very soft under foot for a dog, they can jump and turn with ease, making play a lot safer for you and your dog. The rubber and sand surface means this area can be used all year round as the ground will not get wet and muddy during winter months. 
Use is by those with experience of this type of equipment and by arrangement only. Owners and dogs must have used this type of equipment before and be confident when using. We have some more basic equipment in our secure field and 3 acre field if you would like to have a go.
Hoopers
Want to give some hoopers a go during your stay, let us know and if you are used to this type of equipment we can give you access to the hoopers equipment too.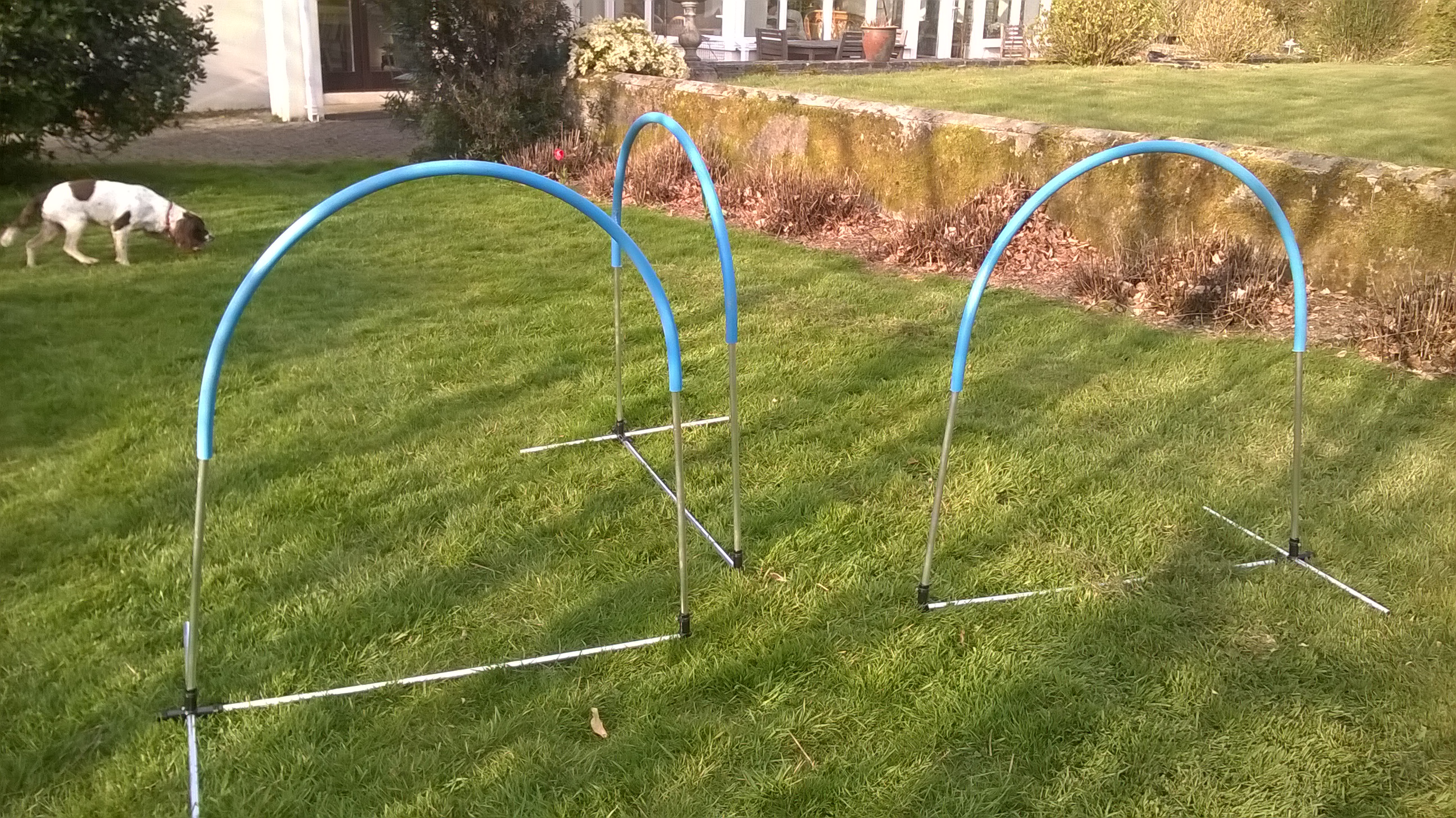 Doggy days out in Devon
Of course if you did not wish to spend your whole time onsite, North Devon has so many attractions and places that welcome dogs.