Exmoor Cycling Holidays, Bike Hire, Cycle Routes, North Devon
Information on Cycling in North Devon & Exmoor
Kipscombe is the perfect place to stay if you are planning a cycling holiday in North Devon or Somerset
The lanes around us are very typical of North Devon, quiet & peaceful roads and very scenic with breath taking views along the way. They are of course hilly and as we are 1000 feet up, a downward trip normally leads to a uphill trip on the way back.  Whilst out cycling you'll find pubs, cafe's and tea garden's scattered all over Exmoor and Devon.
Kipscombe Holidays is located in North Devon, right on the edge of Exmoor & Somerset borders.
Exmoor & Devon have some of the best cycle routes around, some are designed to test you, while other shorter routes are gentle and relatively flat. There are some lovely places to visit on foot or on a bike including Wistlandpound Reservoir. 
Just 3/4 mile down our lane is National cycle route 3. This part is by road and is very hilly.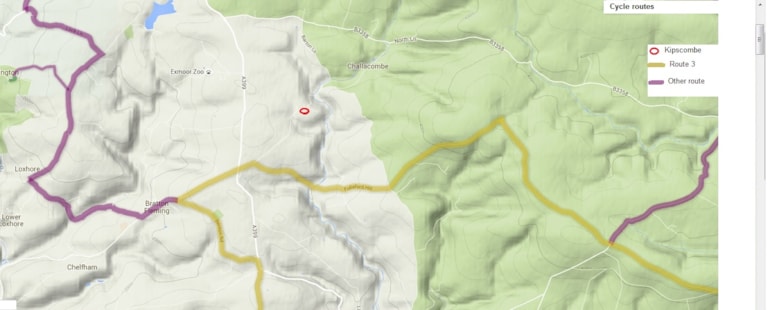 Cycling on Exmoor
You'll find over 150 miles of the National Cycle Network (NCN) are in Devon; this 10,000 mile network is an initiative developed by Sustrans, working with local authorities and others. The routes are designed to be safe for novice cyclists, useful for local journeys and a memorable experience for visitors. In Devon there are two NCN routes that are fully mapped, the 'Devon Coast to Coast' and the 'West Country Way'. A third, NCN2, the South Coast Route. 
Devon Coast to Coast – NCN Route 27 
The Devon Coast to Coast (NCN Route 27) links Ilfracombe on the north coast with Plymouth on the south coast for a distance of 102 miles/163 km. This is a classic route through the heart of Devon, which is traffic-free for extensive sections, often tracing the course of former railway lines. It passes through tunnels and across breathtaking viaducts and bridges, taking in spectacular views, the beaches and estuaries of north Devon, lush green river valleys, the moorlands of Dartmoor, market towns and the bustling city of Plymouth. 
The route runs via Braunton, Barnstaple, Bideford, Great Torrington, Hatherleigh, Okehampton and around the edge of Dartmoor National Park to Tavistock and Plymouth. Whether you are planning a long weekend trip across Devon or an easy day's cycling from Plymouth, Okehampton or Barnstaple, this route is the way to explore the varied countryside without using the car. There are also many links and spurs to explore and enjoy, such as the Sticklepath Cycle Route from Okehampton or from Clearbrook to the Bere Peninsular cycle route. Devon Coast to Coast Traffic free sections include: • Ilfracombe to Willingcot Cross - 4miles / 6.5km (See also Ilfracombe to Woolacombe Circuit) • Braunton to Meeth - 32miles/52km (Tarka Trail) • Okehampton to Lydford - 11miles/18km (Granite Way) • Clearbrook to Plymouth - 7miles/11kms (Plym Valley Trail) 
The West Country Way (NCN Route 3)
This is just down our lane
The West country Way (NCN Route 3) from Bristol to Padstow, crosses Devon for 105 miles/168km from the Somerset border near Tiverton to the Cornwall border near Holsworthy. It runs alongside the tranquil Grand Western Canal, before crossing Exmoor, followed by a section through Barnstaple, Bideford and Great Torrington which it shares with the Devon Coast to Coast cycle route.It then heads west to Holsworthy, and onto Bude and Padstow in Cornwall. The route encompasses a great variety of scenery from the commanding heights of Exmoor to the flatness of the Taw-Torridge estuary and lush river valleys, passing along quiet canal tow paths, through idyllic rural villages, all of which typify Devon's beautiful countryside. It also offers sections that will suit all cyclists. Families, even those with young children can enjoy a half day trip along the traffic free sections, while dedicated touring cyclists will enjoy the challenge of the majestic landscape of Exmoor and the superb views of Dartmoor between Hatherleigh and Tavistock, as part of a long-distance touring holiday. West of Petrockstowe towards Bude in Cornwall continual improvements are being made to increase the lengths of traffic free paths often along disused railway lines and over impressive viaducts towards the sea. Traffic free sections • Tiverton to Sampford Peverell 4miles/7km (Grand Western Canal) • Tiverton Parkway to Willand 3miles/5km (Grand Western Canal) • Barnstaple to Petrockstowe Old Station via Bideford and Torrington 24miles/38km (Tarka Trail)
Tarka trial cycling can be done from Barnstaple, The route follows the estuary and is a flat level ride more details on the Tarka bikes hire page SEE HERE>>
Exmoor cycling
Besides its roads and quiet lanes, Exmoor has hundreds of miles of bridleways and roads used as public paths (RUPP's). There is considerable scope for exploration and freedom to discover your own style of routes