North Devon off Lead Dog Park
We are pleased to offer a secure dog walking field. You can let your dog run off lead knowing that they will be safe behind our 6' fence. The field is around 2 acres in size and is well drained making it usable what ever the weather. Our dog park gives owners the opportunity to let their dogs run safely off lead, which is ideal for those who have dogs that can not normally run freely.
You can use our field for exclusive use (just you and your dogs) 25 minutes, 50 minutes or 1 hour 50 minutes hire. We may also at times offer a socialising session where dogs can mix with other dogs or a puppy play date where new puppies can meet, play and socialise in a secure area. For those who wish to have a go at dog agility or canine hoopers you'll be able to do that to under supervision, for those with experience you can use the equipment all by yourself.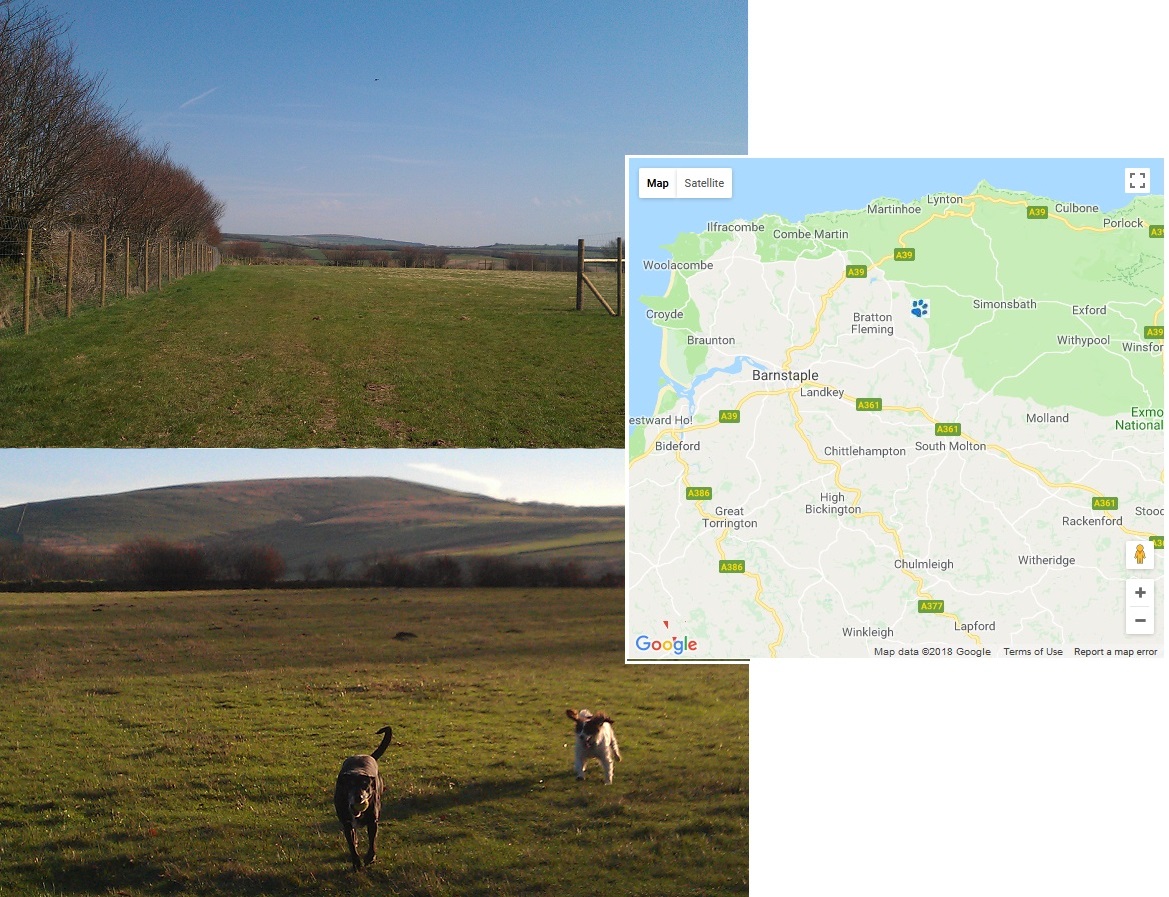 Let your dog play off lead
We shall over time be making improvements to the park based on any feedback we receive.
The field hire is for dog walking, training and exercise. You are welcome to bring your own hoopers, agility equipment or other if you wish.
Opening times - Winter - 8am to 5pm (last session 4-5pm) 7 days a week.
Summer - 8am until 9pm (last session 8-9pm) 7 days a week. Bank Holiday opening times may vary, please contact us.
If you are interested in hiring our field please follow the steps below.
1) Check our secure field is suitable
2) You can quickly check availability before booking online.
To book a 25 or 50 minute session online; click the green button, this will divert you to our Devon Dog field online booking. Simply book securely online to reserve.

4) If you require a 25 minute session, please text us directly (certain weekdays only). We recommend booking 4x 50 minute sessions as part of our 4 session package deal, cost will then work out the same as a 25 minute session and you can use the field from 25 minutes up to 50 minutes. Means no pressure if you arrive a little later or leave earlier.
Parking area and field use: 1 vehicle is allowed for free, extra charge for a 2nd vehicle.
Hire period options
25 minute session weekdays only and restricted to certain days. 1 car and 3 dogs max. Hire starts on the hour or half past the hour. Parking area must be vacated 5 minutes before the next hour. Text us for 25 minute sessions.
50 minute sessions available all days. up to 2 cars allowed and 6 dogs max. Hire starts on the hour. The parking area must be vacated 5 minutes before the next hour.
50 minutes
25 minutes
1-3 dogs
 4-6 dogs
1-2 dogs
Guests not staying onsite
£10.00 
£12.00
£7.00

Cottage guests
Please see the cottage page

for our secure field and 3 acre field use.

-
-
-
-
OFFERS: Book 4 sessions within a 30 day period and get 30% off. Applies to 50 minute sessions only.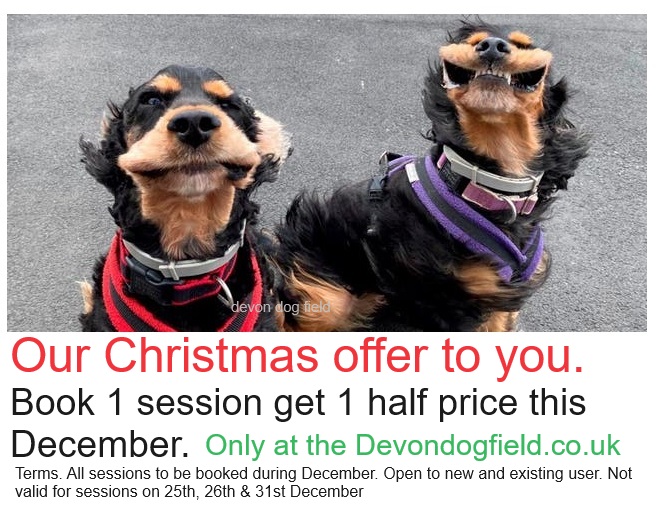 Secure field with 6 foot fencing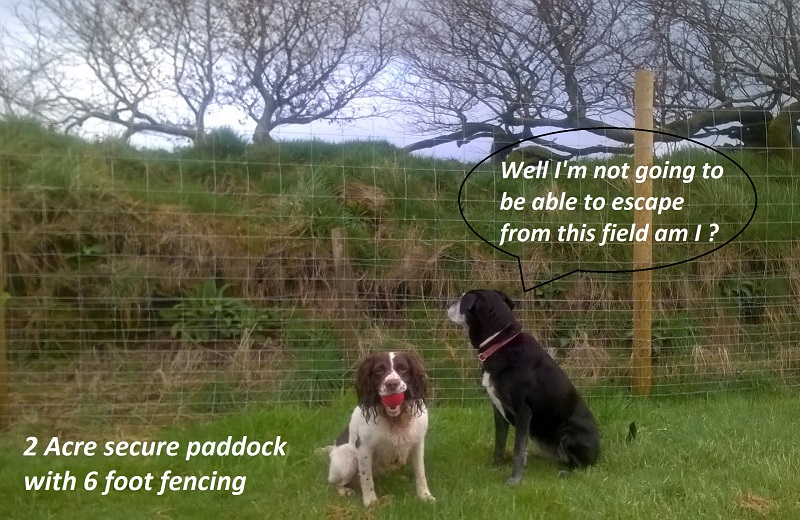 Based on feedback from guests we have established that the higher the fence the better. Some dogs can easily clear a 4 or 5 foot fence, so we have 6 foot (1.9m) deer fence with 23 horizontal wires (small holes at bottom to help keep even small dogs in). No risk of a dogs worrying live stock or other dogs if they were in neighbouring fields.
If recall is a problem we have created a slightly narrower area which will help you catch your dog. All gates are 6 foot tall. Main entry gate has a latch on the outside with padlock and a latch on the inside which you can use to stop outsiders from opening the gate.    
Frequently asked questions
Q: Is it really secure, my dog will not escape?
A: It is completely secure the fence is 1.9m tall deer fence with small wire spacing at the bottom. All gates are tall and lockable.
Q: Is the Secure exercise field available all year round?
A: Pretty much. We may occasionally close the field for maintenance
Q: Can I bring my children with me?
A: We prefer that only Adults (18+) use our field. Maximum of 3 children from 1 family per visit. It is a space where adults can exercise a dog off lead. We find that dogs off lead and children do not always mix. If you wished to bring a child please contact us first. All children must not climb on the equipment as it's designed for dogs and may have doggy do dahs on it.
Q: Can I bring a friend?
A: Yes for exclusive use we allow 1 or 2 vehicles (small extra charge for 2nd vehicle), this means you can walk with a friend or relative. Your friend can even bring their dog too. (extra charge may apply)
Q: Can I just turn up?
A: NO, You will need to book first.
Q: Can I leave my dog poop bags?
A: We are an eco-site therefore if your dog waste bags are not 100% compostable you must take your bags away with you. If using our purchased compostable dog poop bags then these can be left in the dog waste caddy. Compostable dog waste bags are made from corn starch so we place these on our compost heap. If you use your own bio-degradable or plastic bags these must be taken away with you.
Read more common Questions in our FAQ's page here
Have any further questions, send us an email.

-
Dog socialising day and puppy meetup
When TBA - 10:30am to 12:30pm
Dog socialising day where you can bring your dog or puppy along to mix with other dogs.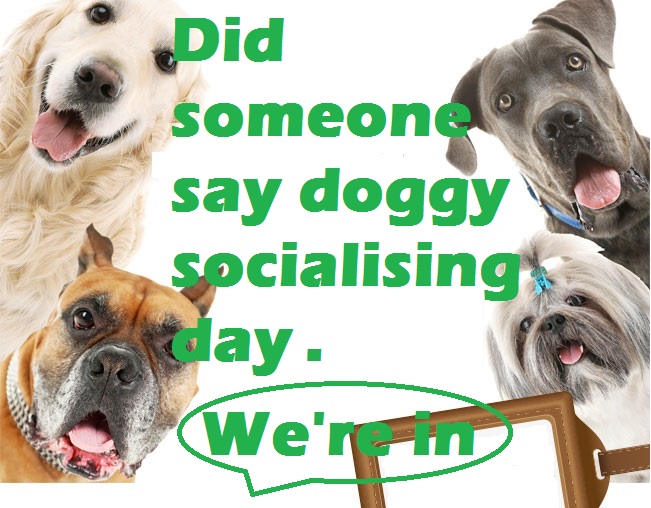 It will be in our 2 acre secure field with 6 foot fence so you can let them run around safely off lead.
Dogs must be social and show no signs of aggression towards other dogs. NO bitches in season.
We provide; Free parking onsite, water for dogs, compostable poop bags, a field for dogs to run and play. You can stay for as long as you wish. We prefer adults only, but All children must be accompanied by a adult.
Cost is £? for one dog and £? for every dog after this (max of ?)
To book you will need to make your payment in advance. Please visit our business PetTastic to make your booking securely online. Payment will be shown as PetTastic